Choose Vasten, choose rest assured
 In the business world, it is crucial to stand out from the competition. What makes a successful business unique is its ability to grab the attention of potential customers and leave a lasting impression. That's where LED flexible neon glowing signs come into play. When it comes to choosing the right brand for your custom signage needs, Vasten should be your first choice.
 Vasten is a reputable brand that has been supplying high quality LED Flexible Neon Lighted Signs for many years. Their commitment to customer satisfaction and product excellence has made them a trusted name in the industry. When you choose Vasten, you can rest assured that you are getting the best possible signage solution.
 One of the key things that differentiate Vasten from its competitors is the wide range of options they offer when it comes to customization. No matter what type of business you are engaged in, no matter what message you want to convey, Vasten can provide you with solutions. They offer a variety of sheets including aluminum, PVC, and acrylic. This allows you to choose the material that best suits your needs and preferences.
 Not only does Vasten offer a range of materials, but it also prides itself on its attention to detail and exquisite craftsmanship. Every Factory LED Flexible Neon Light Sign is meticulously crafted to ensure the highest quality. Their team of experienced professionals follow strict quality control measures to ensure that each logo meets their exacting standards.
 In terms of customization, Vasten understands that every business has unique needs. That's why they are able to design signage to your exact needs. Whether you want to showcase your company logo, catchy slogan, or any other personalized message, Vasten can bring your vision to life.
 Another advantage of choosing Vasten is their commitment to timely delivery. They understand that time is of the essence in the business world, and they strive to meet the tightest deadlines. With efficient production processes and streamlined operations, Vasten ensures that your custom LED flexible neon signage is delivered on time and ready to make an impact.
 In addition, Vasten stands behind the quality of its products. They guarantee that their signage solutions will meet your expectations. In case of any issues, their professional customer service team is always ready to help you. With Masters, you can rest assured that your investment is protected.

 To sum up, when it comes to LED flexible neon signage, Vasten is the preferred brand. Their extensive customization options, high-quality materials, exquisite craftsmanship, strict quality control, prompt delivery, and commitment to customer satisfaction make them ideal for businesses looking to make a lasting impression. Choose Vasten, choose rest assured. Let their customizable signage solutions elevate your brand and set you apart from the competition.
Introducing our newest addition to the home decor segment – LED Neon Signs. This stunning piece is handcrafted with the utmost precision and care ensuring each sign is a unique work of art. Made of high-quality materials silicone tube and acrylic , it is not only visually appealing but also designed to be extremely durable, providing you with a long-lasting and vibrant home decor.
 One of the key features of our LED neon signs is their exceptional longevity. Unlike traditional neon signs that burn out quickly, our LED technology ensures your sign has a long lifespan. This means you can enjoy its colorful, eye-catching glow for years to come without frequent replacement or maintenance. Whether you choose a design that reflects your personal style or opt for a custom LED neon sign, you can trust that it will brighten your space for a long time.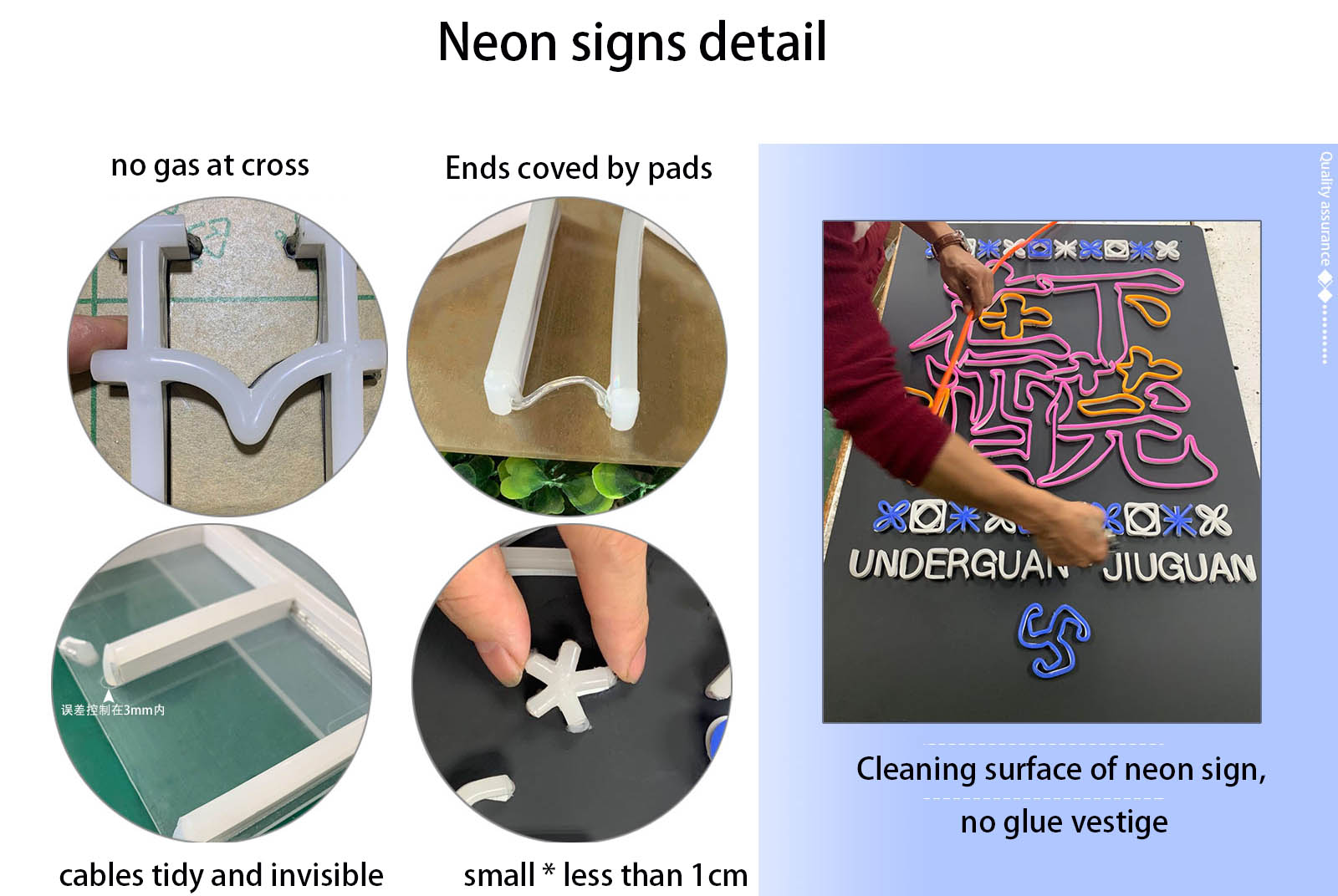 Besides their impressive longevity our LED Neon Signs also offer an array of attractive features. With its energy-saving properties, you can enjoy the vibrant lighting of neon signs without worrying about excessive power consumption. Plus, our expedited shipping ensures that your chosen sign arrives at your doorstep in time, allowing you to spruce up your home decor in no time. Whether you're looking to spruce up your living room, bedroom, or even your office, our LED neon sign is a versatile wall decor that will add a touch of elegance and personality to any space.
 As far as quality goes, our LED Neon Signs are truly eye-popping. Carefully selected materials and craftsmanship combine to ensure each sign will stand the test of time. The durability of our product means you can display it proudly in any room without worrying about it breaking easily. From playful designs to custom creations, our collection of neon LED lights allow you to express yourself and create a unique ambiance in your home.
 In conclusion, our LED neon sign is not just an ordinary decorative piece, but an expression of style and innovation. With its long lifespan, vibrant colors and energy-saving benefits, it's a worthwhile investment for anyone looking to transform their living space. Whether you choose a pre-designed sign or decide to create a custom LED neon sign, our fast shipping ensures you can enjoy your new artwork in no time. Don't miss this opportunity to enhance your home decor with our durable handmade LED neon signs.
---
Post time: Aug-19-2023