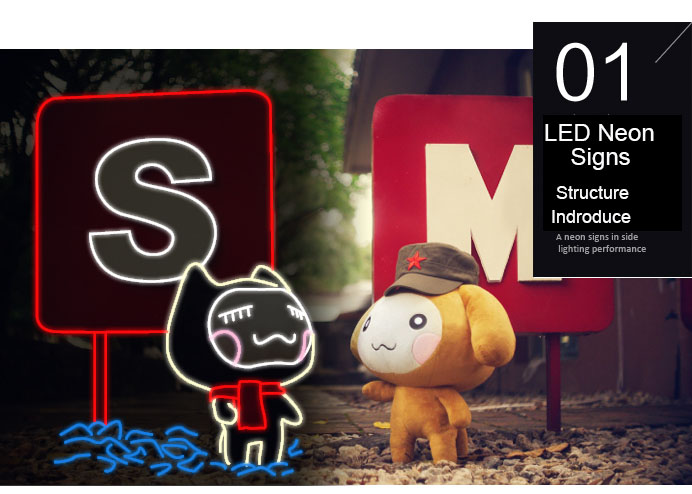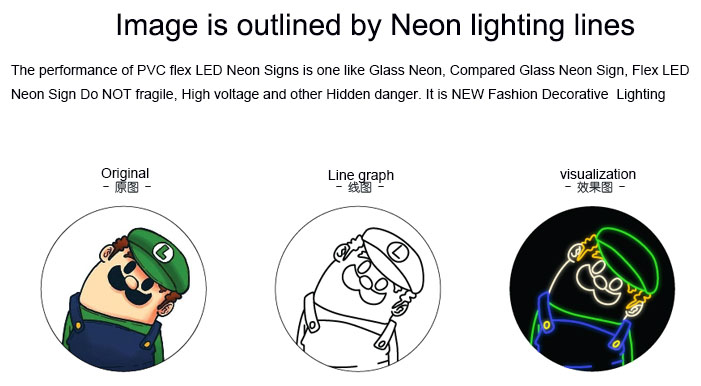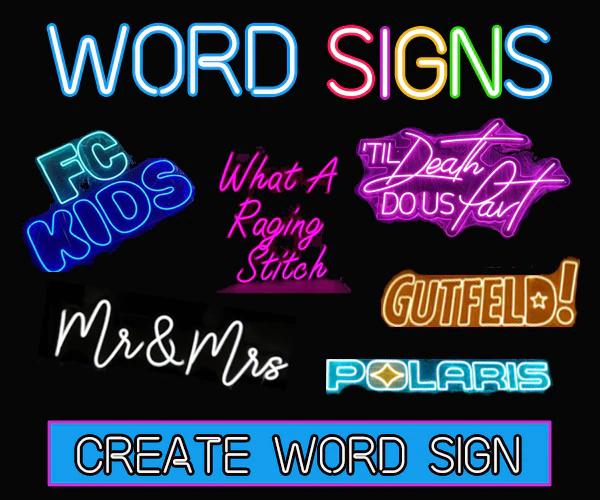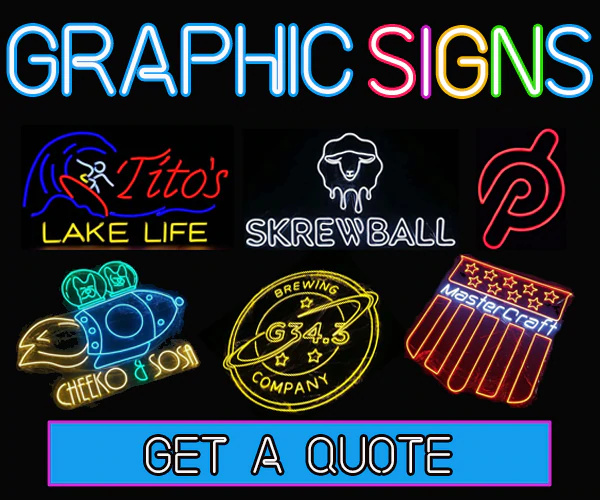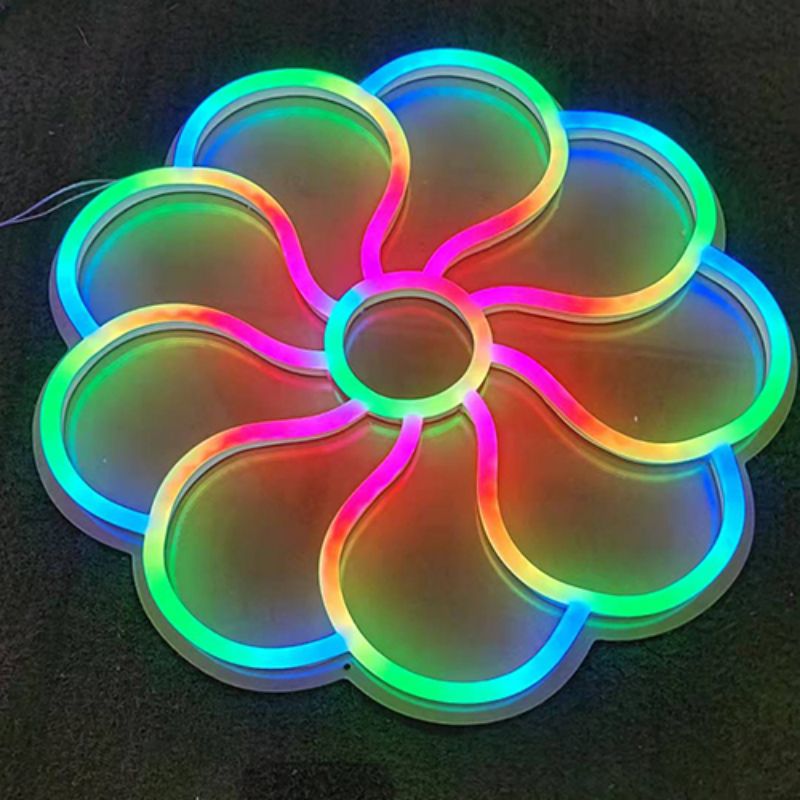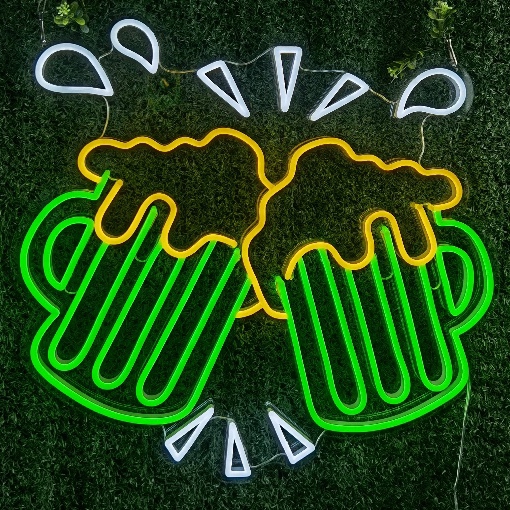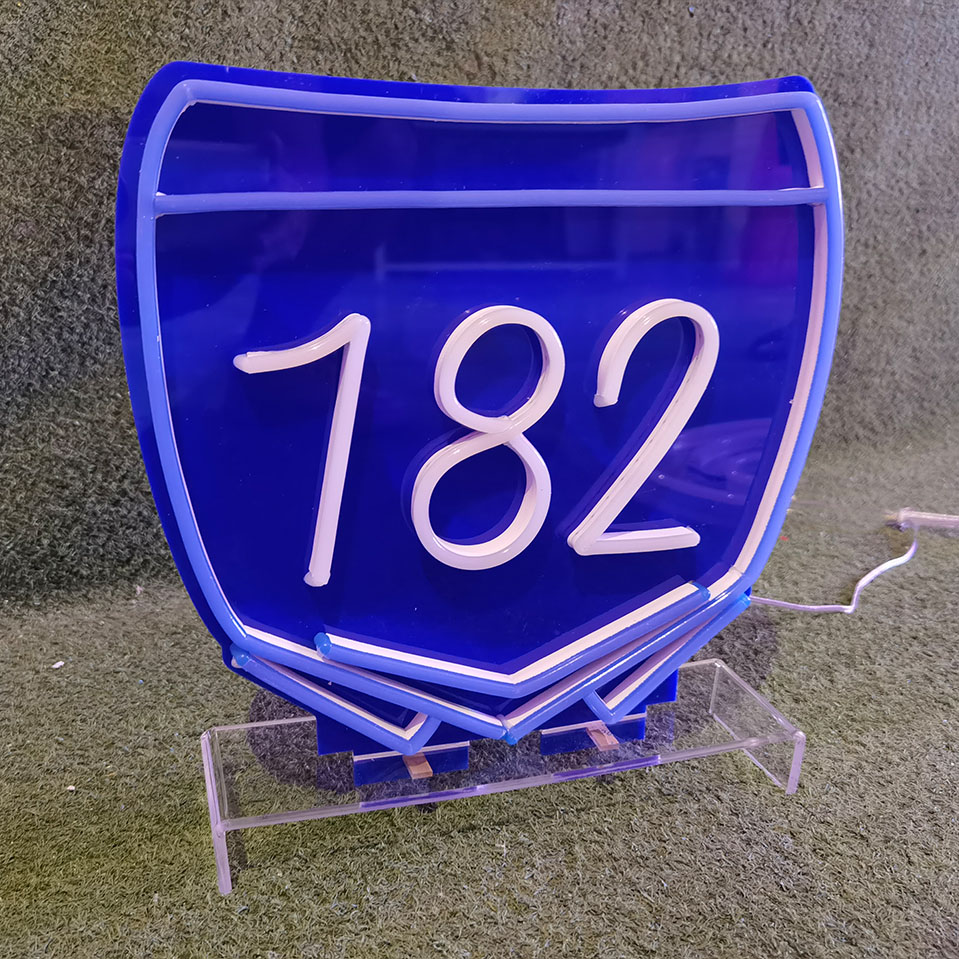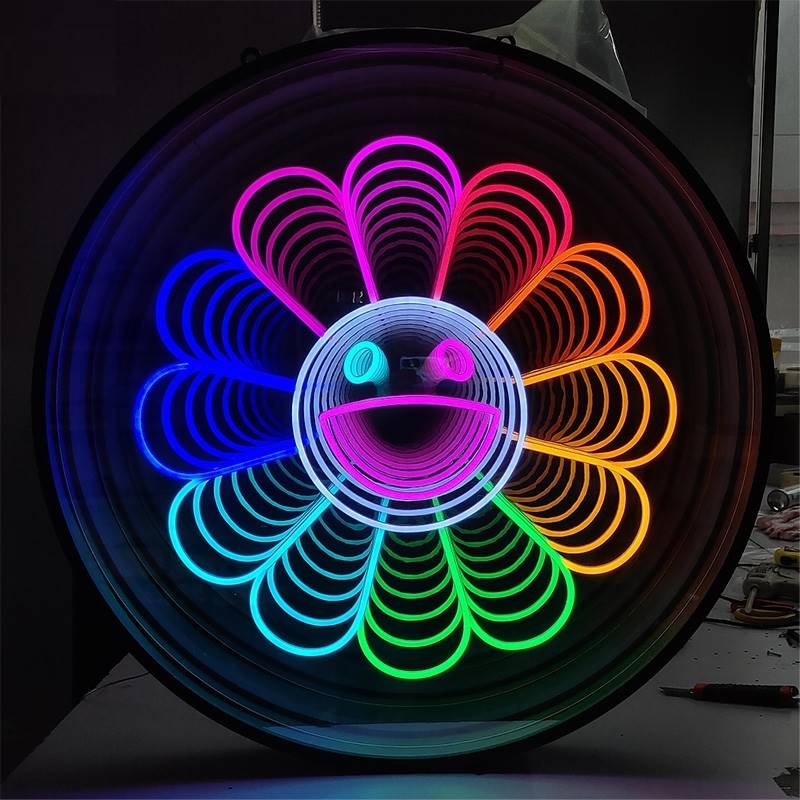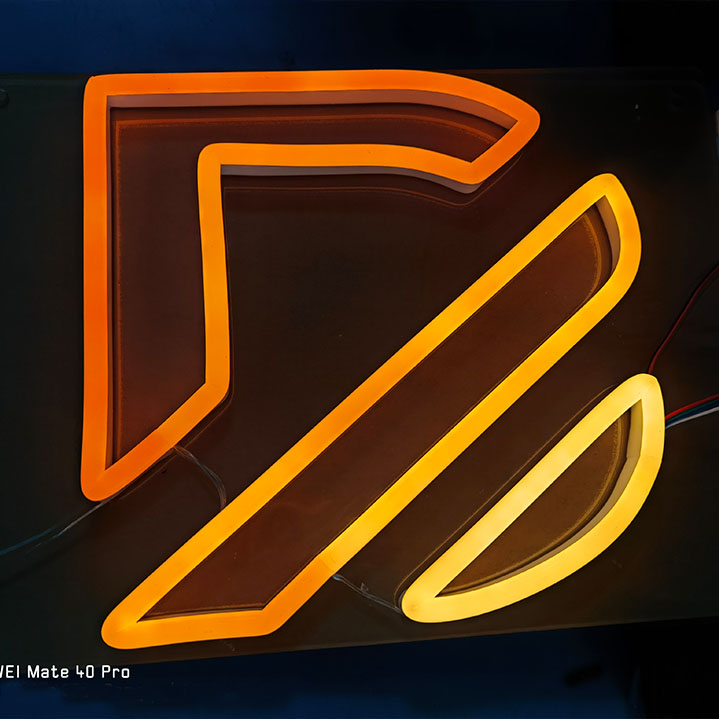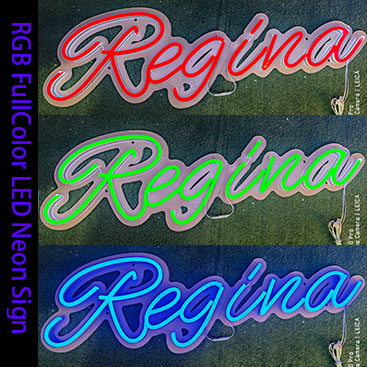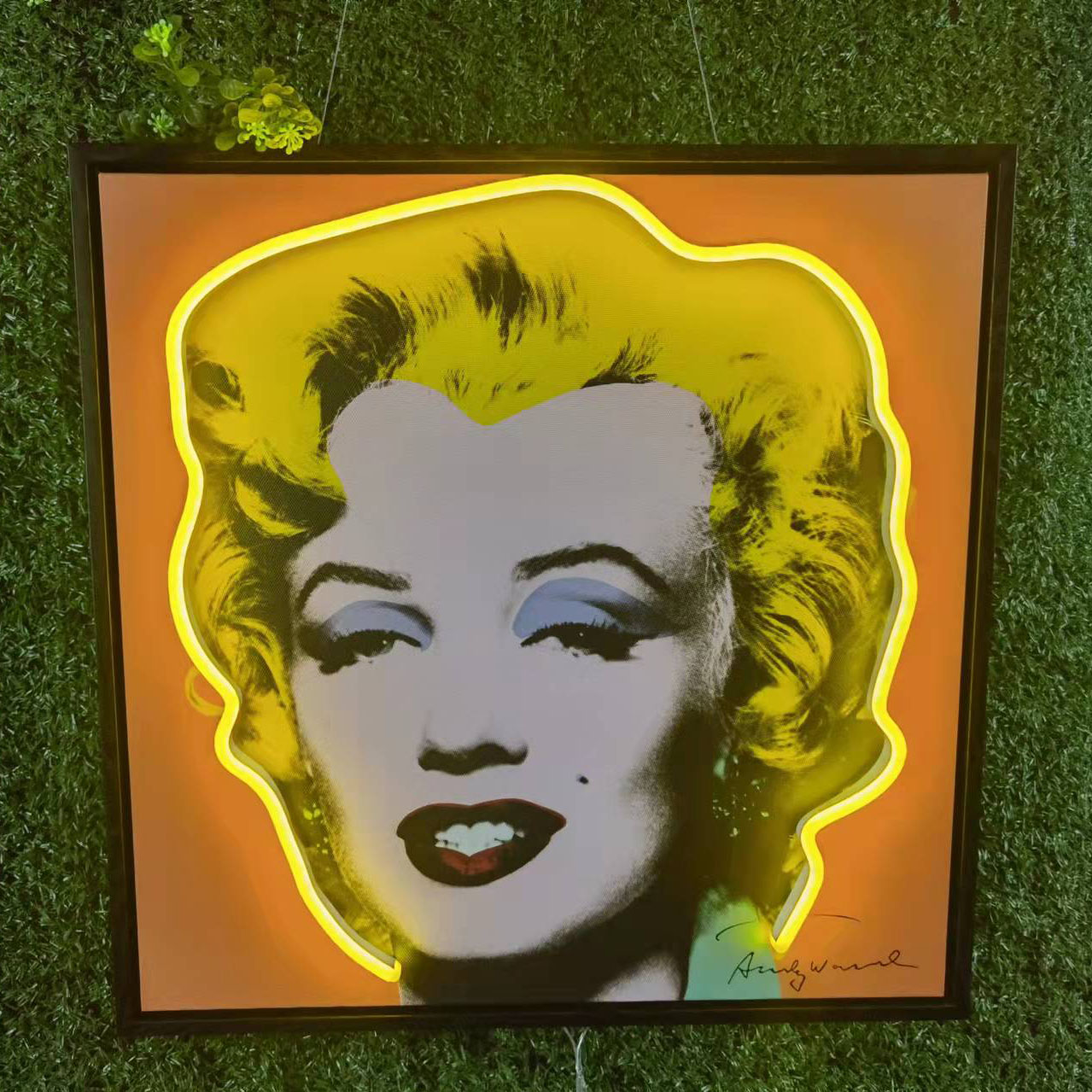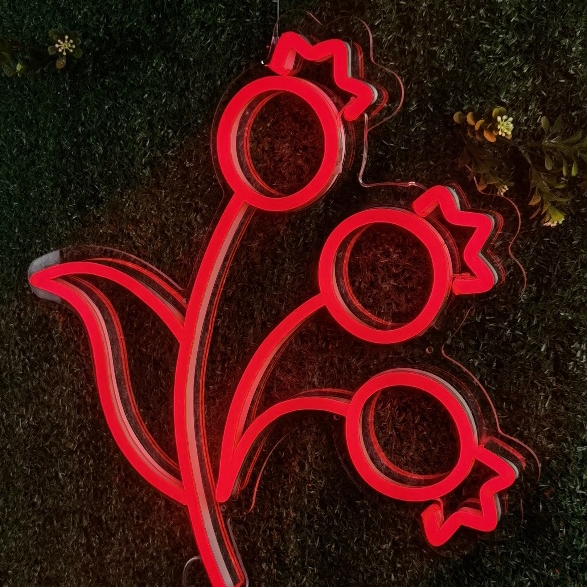 Let us light up your life with quality LED neon signs for home, business, weddings, events, & more. Take a business logo, song lyrics, a kid's name, or even the shape of your dog, & neon-ify it! We are helping make your own art accessible with easy-to-design, stylish neon lights. Now there's no excuse not to turn up the brightness! We take pride in creating top quality custom neon signs at affordable prices.

Modern Neon Signs
Popular in the 20th century, neon light signs are making a serious comeback thanks to a new, safer, more energy efficient and affordable material - LED neon flex. While vintage neon signs used glass neon tubes, modern neon is allowing a new generation to enjoy a high quality neon experience with a greater range of options while costing significantly less!
Thanks to the affordability, energy efficiency, durability and safety of neon LED products, you can now buy neon LED signs and wall decor for a huge variety of uses. Add a stunning addition to your wedding party, create a neon word sign for bedroom or home decor, get a custom personalized name sign for the kids room, add a unique touch with neon bar signs, a neon sculpture, or get a customized neon sign for just about any purpose.
Personalized & Customized Neon Signs
All of our signs, lights, lamps, and art are handcrafted from original designs. If you want a personalized neon sign, custom neon word sign, LED bar lights, neon sculpture, or something totally unique we can make it for you!
We have designed a wide range of customized neon light signs for wedding party decor, events and birthdays. Need gift ideas? A customized neon sign is a standout present. Design your own personalized neon name signs for the home bar or garage. How about a wall art neon sign for the bedroom, living room or man cave? Take your pick of our freestanding neon lamps.
Get LIT with Custom Neon Lights
Browse the store for our most popular neon art, aesthetic sculptures, table lamps, and word signs. Our neon name signs can be personalized for kids rooms and weddings. Or go your own way and create something truly unique with a customized neon sign for home or business. Just tell us your idea and we'll light it up!
Our customized signs are made from high quality LED flex making them more cost-effective, durable, and safer than real glass neon signs while still providing an incredible visual impact. find out how our process works at bottom of this page, custom options and delivery times.
Custom Neon Signs for Business
Businesses are finding that modern neon flex products can be used for more than just neon open signs. Vasten neon word lights feature in co-workspaces; neon wall art adorns coffee shops, bars, restaurants, and diners; neon light up signs appear in beauty salons and barber shops; neon quote signs are found in nightclubs and yoga studios.
Food trucks, pop ups, boutiques, hair salons, and entrepreneurial businesses that cater for the Instagram generation use neon light up signs to great effect. Want to get people talking about your business? Add a neon wall decoration as a backdrop for those all important selfies! Savvy start-ups and in the know marketing agencies deploy on-trend neon art and quirky signs to generate free advertising via social media shares.
Why choose us to custom neon
Vasten neon sign company was founded in 2011 which is a company dedicated to creating high-end neon art in the world. With over 5000 square meters dust-free workshop,automatic production lines,modernized equipments and 100 employees,20 engineers,68 craftsman,30QC etc.Qualitified work team.
Vasten has sold 100,000 neon art signs to the world which are widely used in brand logo,store signs,wedding scenes,home decoration,shopping mall,hotel decoration,events and so on.
Every neon art is designed by true heart,meticulous craftsmanship,constantly improve,and always keep exploiting,make every neon art perfect. Since established,Vasten has always adhered to the mission of "Neon art lights up our future".Our designers have designed neon art for three European royal weddings.Our neon artwork has been featured in several major media including the British BBC.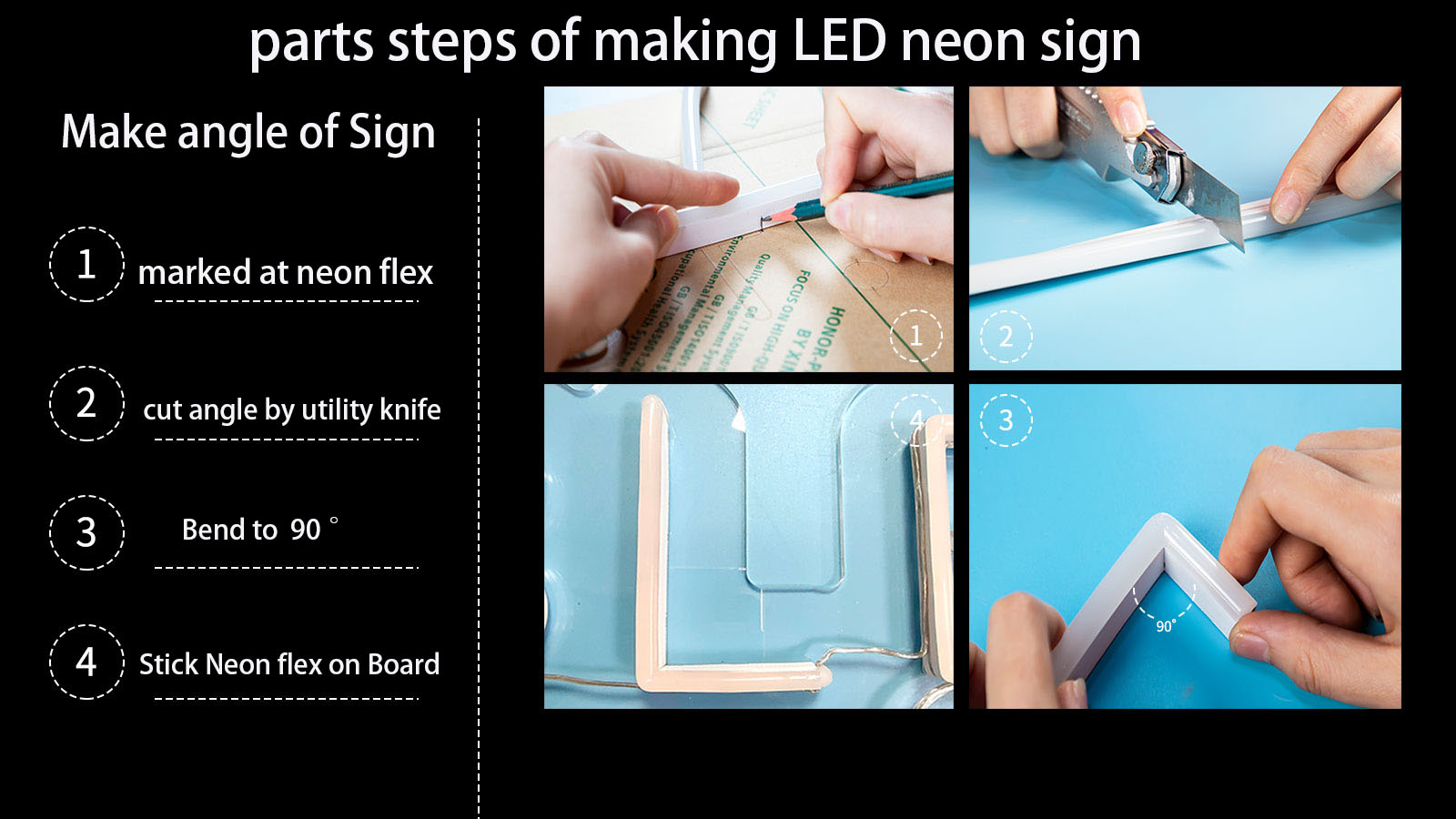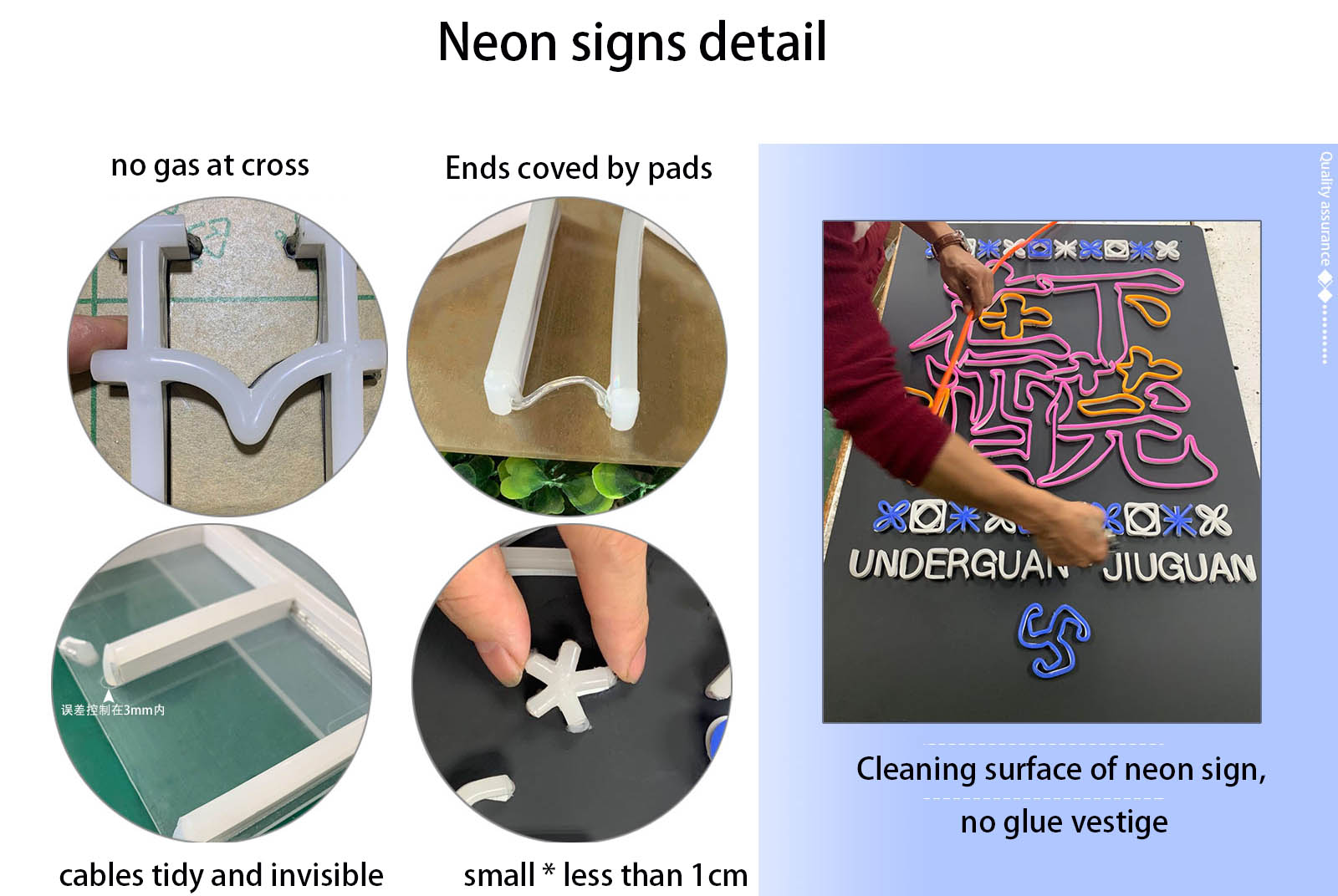 Common Neon Sign Questions
Q: Do you offer payment plans?
A: We are happy to be able to offer a Shop Pay option which gives the ability to pay in 4 installments.
---
Q: What kind of backs are your neon signs installed on?
A: We offer 3 different types of backs all of which are made out of acrylic. We offer cut to square or rectangle, cut to shape or cut to letter. These are offered in both black or clear.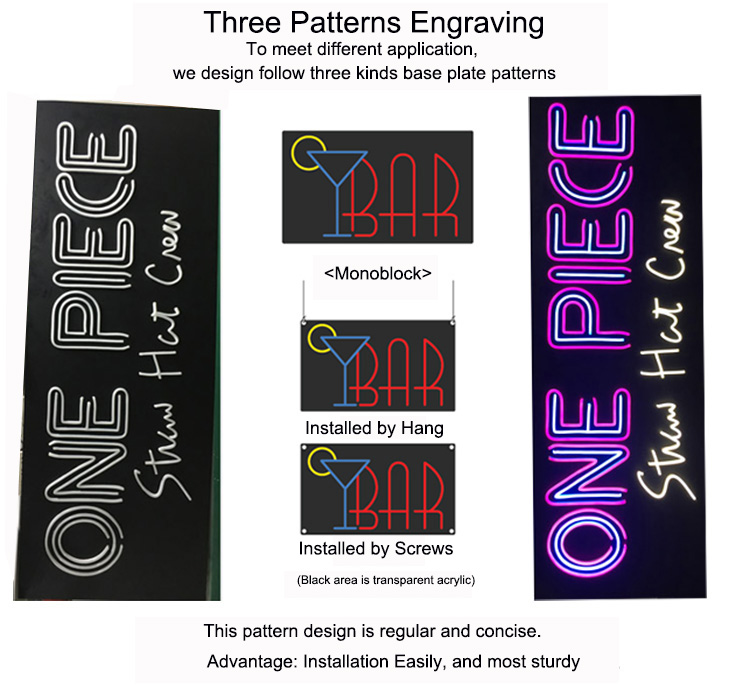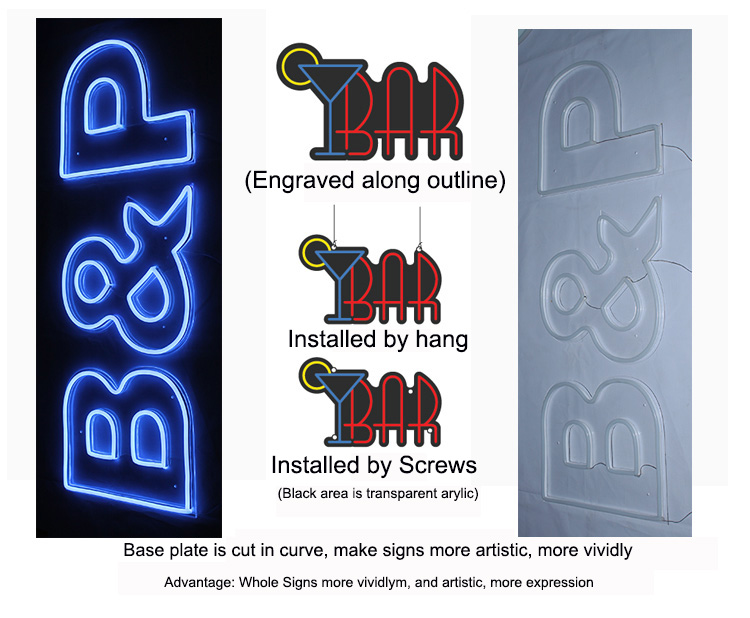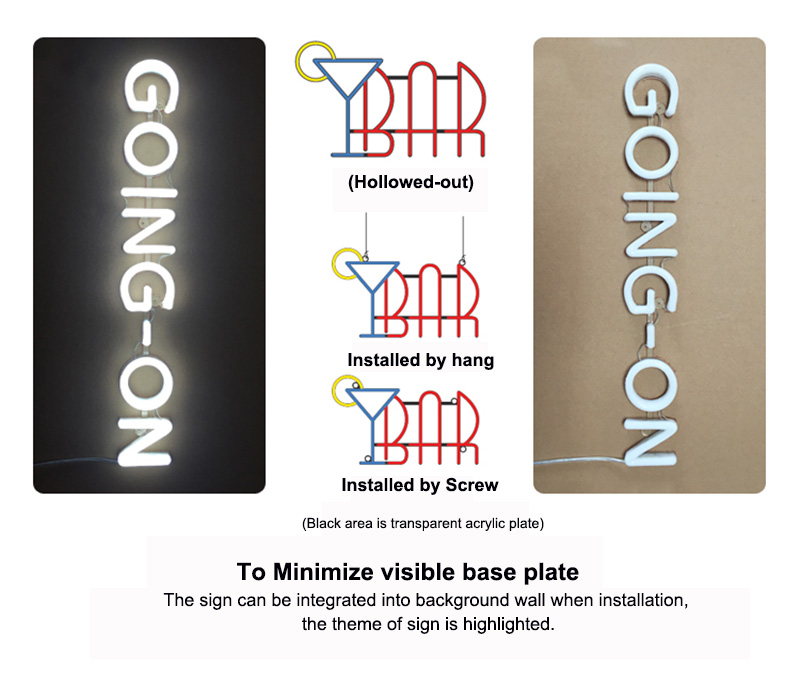 Q: What colors choices are available for your neon signs?
A: We offer 24 color options to choose RGB color and digital dream color . See below for our color chart.

Q: Do you offer RGB color changing? Does it come with remote?
A: Yes! You can request full RGB color changes that can be controlled by a small remote. Following is an example of how our RGB color changing neon signs work. We also offer flashing transformers and dimmers too. The digital color also can be offered, digital color can provide more kind light effects, such as chase, flow,and even custom changing effects.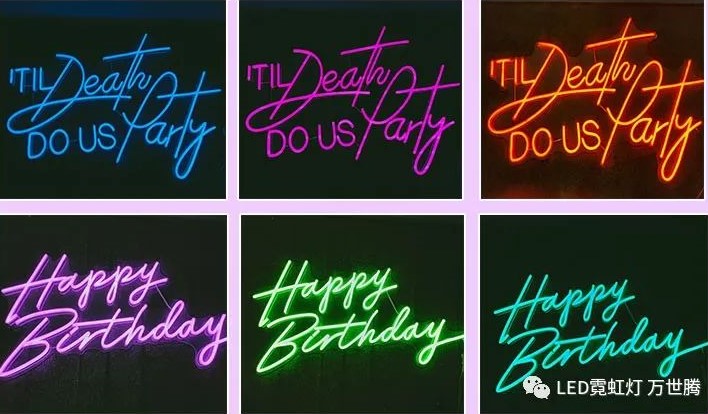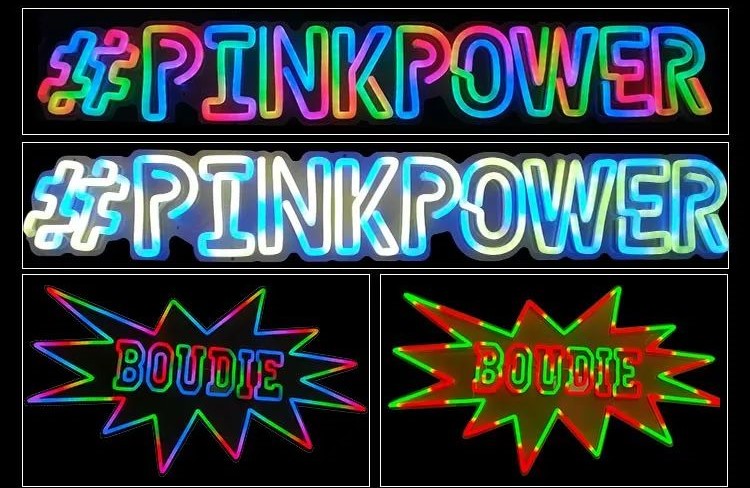 Q: What fonts are available for neon signs?
A: We have tons of standard fonts we can use and can also use a custom font you have as long as that font can be shaped or outlined with neon tubing. Below our the standard fonts we offer. Contact us if you have your own custom font you would like to use.
Q: Is it easy to install Neon Sign? Is it dimmable ?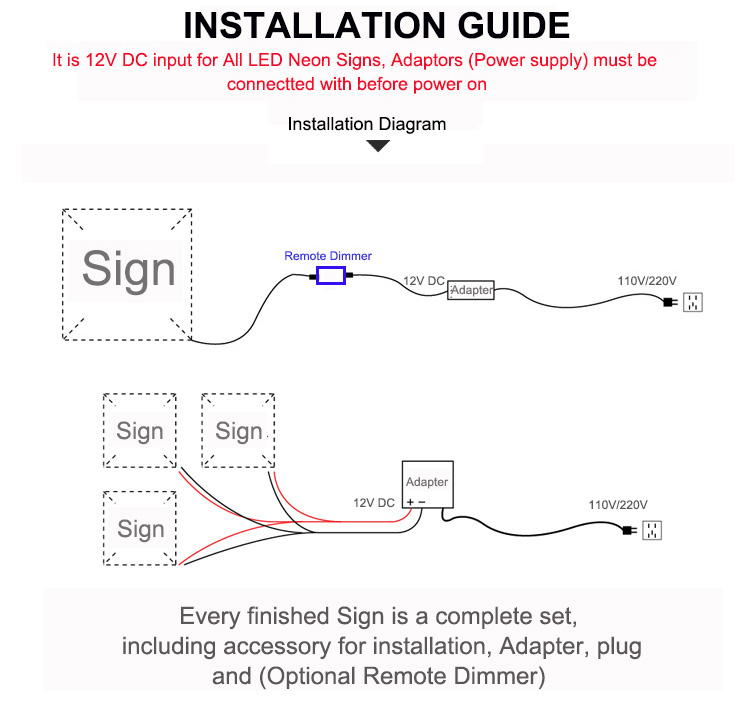 What's is the quality neon sign? How to make a neon sign ? Can I DIY neon sign ?
A quality neon sign, first, the basic performance. the light is uniform, no dark dots, no hot spots,the lifespan, Vasten neon signs is more than 50,000 hours life in door application.
Second, workmanship.the neon flex tube line whether conform to the design, whether the cable is less visible, whether has glue vestige, whether
Q: Are your signs made out of glass tubing?
A: We use neon flex tubing for our signs. Flex tubing is much more durable than glass, lasts longer, brighter and more energy efficient. We can also shape flex tubing to great detail. Check out some of our recent flex neon tubing signs from here.
Let us create a custom neon sign to fit your exact needs. Starting at only $189
Get in touch with one of our neon sign designers and let us know exactly what you are looking for. We are sure we can design a custom neon sign that fits your needs and at an affordable price.